OSHA Confined Space Safety
29 CFR 1910.146 Confined Space Safety Standard
Many workplaces contain spaces that are considered to be confined because their configuration hampers the activities of employees who enter into, work in, or exit from these spaces.
In many instances, employees who work in confined spaces also face an increased risk of exposure to serious physical injuries from hazards like entrapment, engulfment and hazardous atmospheric conditions.
Confinement in itself can pose entrapment hazards , and work in confined spaces may keep employees closer to hazards like machinery components.
Confinement, limited access and restricted airflow can result in hazardous conditions that would not normally occur in an open work space.
The terms 'permit-required confined space' and 'permit space' refer to spaces that meet OSHA's definition of a 'confined space' and contain health or safety hazards. For this reason, OSHA requires workers to have a permit to enter these spaces.
The first four modules in this course focus on confined spaces in general industry. They explore the types of confined spaces an employee may enter and the type of training needed to protect from the hazardous materials that may exist inside a confined space.
The final module covers the basics of confined space in the construction industry.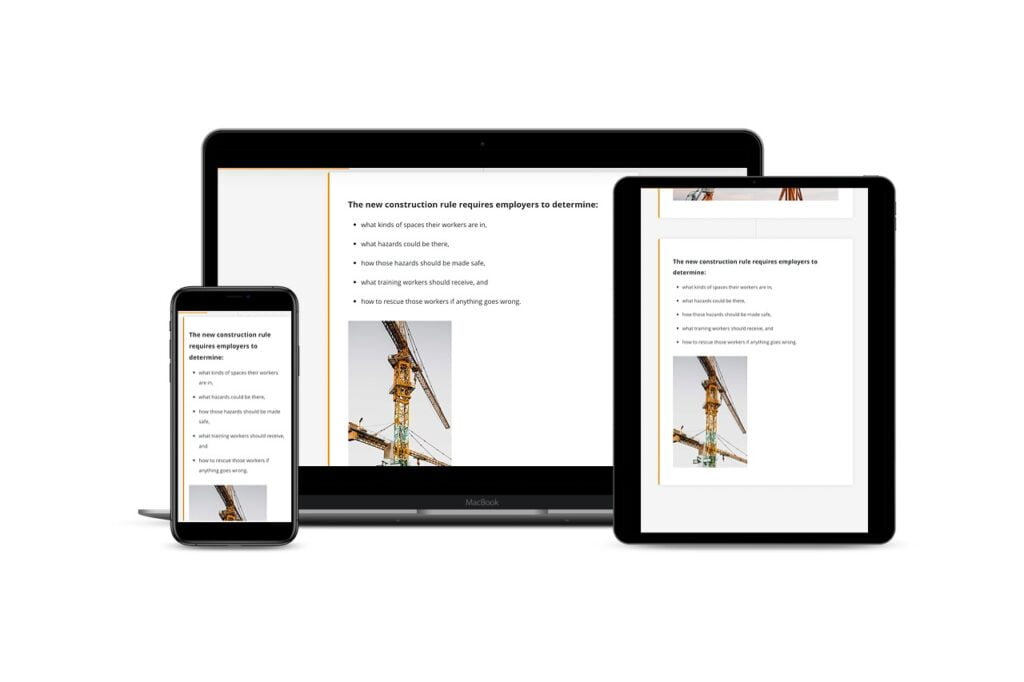 OSHA Confined Space Safety - Curriculum
Confined Space Entry Team
Confined Space Training Requirements
Confined Spaces in Construction
OSHA Certificate of Compliance
Get your OSHA Confined Space Safety Certificate for just $19.95. 
Instant access and email delivery means you're OSHA 29 CFR 1910.146 Confined Space Safety compliant immediately. Your certificate will be permanently stored in your account where it can be verified or re-printed at any time.
OSHA Information and Disclaimer
Confined spaces are addressed in specific OSHA standards for general industry, maritime, and construction. This section highlights OSHA standards and documents related to confined spaces.
OSHA Standards
Maritime (29 CFR 1915, 1917, 1918)

Maritime (29 CFR 1915, 1917, 1918)

Related Information

1915 Subpart B – Confined and Enclosed Spaces and Other Dangerous Atmospheres in Shipyard Employment

1915.11, Scope, application, and definitions applicable to this subpart.

Related Information

1915.12, Precautions and the order of testing before entering confined and enclosed spaces and other dangerous atmospheres.

Related Information

1915.13, Cleaning and other cold work.

Related Information

1915.14, Hot Work.

Related Information

1915.15, Maintenance of safe conditions.

Related Information

1915.16, Warning signs and labels.

Related Information
State Standards
There are 28 OSHA-approved State Plans, operating state-wide occupational safety and health programs. State Plans are required to have standards and enforcement programs that are at least as effective as OSHA's and may have different or more stringent requirements.
Additional Directives
Note: The directives in this list provide additional information that is not necessarily connected to a specific OSHA standard highlighted on this Safety and Health Topics page.
National Consensus Standards
Note: These are NOT OSHA regulations. However, they do provide guidance from their originating organizations related to worker protection.
American National Standards Institute (ANSI)/American Society of Safety Engineers (ASSE)
Z117.1, Safety Requirements for Confined Spaces